Office 365
Office 365 is the cloud-based version of Microsoft Office suite (Word, Excel, PowerPoint, Outlook Email, etc.) that also includes tools such as OneNote and Teams. The York County School Division uses Office 365 as a means for students and staff to collaborate, create and store documents and work, and hold video conference meetings.
In addition to having access to Office 365, all YCSD students are able to download the latest version of Microsoft Office Suite. Below are some of the features and benefits available: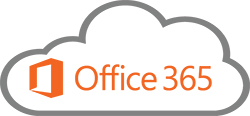 Each student can install the software on at least five PCs, Macs or mobile devices (apps can be downloaded on some devices and don't count as an installation)
The software may be used with OneDrive for automatic device syncing
The Office subscription lasts for as long as a student is enrolled in the division
Software updates are automatic
Special Considerations
Individuals must logon to a device every 30 days to keep the local software installation active.
It is the student's responsibility to create local copies of any documents they wish to retain prior to graduating or transferring out of the division.
Office 365 Suite is being provided as an instructional tool for school-related materials and communication. Personal use of the program and the student-issued email account is discouraged. Violations of the YCSD Acceptable Use Policy (AUP) may result in students losing access to Office 365 and the Microsoft network.
YCSD does not provide technical support for personal computers or other personal devices.
Students under the age of 13 will only have the ability to send or receive email to/from YCSD-based student and staff email addresses. Students under the age of 13 cannot send to or receive from outside YCSD email accounts.
Office 365 Access
Office 365 requires students to have access to a school-based email. However, the school division does not require students to have email accounts. Parents that do not wish to have this service available, may request the deletion of their child's email account by contacting the school directly. Please note that this step will mean that the student will not have access to Office 365 for local software installations, online applications, or the capability to communicate and collaborate with other students for group projects or with their teacher through Office 365 once this account is removed.
Go to the following website: https://portal.office.com
Sign in with the student's email address (example: 999999@ystu.ycsd.york.va.us)

If prompted for an account selection after entering your username, choose Work or School Account

Use the student's current division network password (If student does not know his/her student ID and network password, please contact the instructional innovation coach (IIC) at the child's school)
Local Installation
Click on the gear icon in the upper right corner and select Office 365 settings
Select software and install the 32 bit or 64 bit versions of Microsoft Office depending on the operating system version installed on your computer and choose Run when prompted
Follow the prompts to complete the installation
Select use recommended settings and accept the license agreement
Installation will be complete and you can use your new software
Mobile Device Installation
Office 365 for mobile devices is available for iPad, iPhone, Android and Windows Phone. It consists of Microsoft Word, Excel and PowerPoint. These apps can be downloaded for free from their respective app stores. Once installed, you will be prompted to login with the student network account to verify the child as a YCSD student.
Resources
For help or information about the Student Advantage Program, visit the Microsoft website.
For questions related to student accounts and student access, email Office365@ycsd.york.va.us
(The student's password must be reset by the school's IIC. Only a student can request a password reset and it must be done in person for security purposes.)