Leadership
School Board
The York County School Division is governed by an elected School Board comprising five members, one from each of the county's five election districts. Elections are held every four years, with the next election taking place in November 2023.
Board member contact information and board meeting schedules are available on the School Board webpage.
Administration
The division superintendent is responsible for the direction, leadership, and coordination of students and staff in their efforts to reach educational goals adopted by the School Board.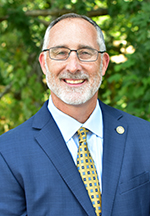 Victor D. Shandor, Ed.D.
Division Superintendent
757-898-0310

@ShandorVictor
Dr. Victor Shandor was appointed as the ninth superintendent of the York County School Division in August 2014. A 1992 graduate of California University in Pennsylvania, he began his career in education as a teaching assistant. This initial experience led him back to the classroom to pursue a master's degree in Exceptional Education from Old Dominion University, an education specialist degree from George Washington University, and a doctorate in educational leadership from Wingate University.
Dr. Shandor has 27 years of educational and leadership experience, serving in the capacities of special education teacher (Chesapeake); principal of the Southeastern Cooperative Educational Programs (SECEP, Norfolk); director of Exceptional Children's Programs (Cabarrus County, NC); and area superintendent (Fulton County, GA).
Under Dr. Shandor's leadership, YCSD was selected by the Virginia Department of Education as one of the first "School Division of Innovation" in the state. Divisions are selected for designing and implementing alternatives to traditional instructional practices and school structures that improve learning, promote college and career readiness, and good citizenship. Dr. Shandor was instrumental in developing community and business relationships to support the division's Career Connection program designed to introduce students to current and emerging industries, so they can investigate potential career paths based on their individual interests and skills.
York County's on-time graduation rate is consistently one of the highest in the state at 97 percent and exceeds the state average by nearly 5 percent. Additionally, more than 62 percent of YCSD graduates earn Advanced Studies Diploma, which exceeds the state average by approximately 10 percent.
The division had met or exceeded all federal targets for reading and mathematics under Dr. Shandor's leadership, with the most notable gain in reading among students with disabilities. Since 2014, reading performance for that subgroup has improved by more than 17 percentage points.
During his tenure, Dr. Shandor was worked closely with the School Board, county administrator, and Board of Supervisors to develop annual operating budgets that place a priority on instruction and learning, retention and recruitment, and safety. These strong relationships have resulted in the division earning national recognition from the Association of School Business Officials International (ASBO) and the Government Finance Officers Association of the United States and Canada (GFOA).
Building and supporting high quality teams and growing leaders from within are major priorities for Dr. Shandor. In 2018, he steered the development of the division's L.E.A.D program, which aims to recruit, support and retain high quality leaders. More than half of the division's current school and division level administrators are YCSD staff who have earned promotions under Dr. Shandor's leadership.
Dr. Shandor is responsible for the school division's capital improvement program. Overseeing almost $60,000,000 since 2015, the division has completed multiple school renovations, roof & HVAC replacements, and upgrades to safety measures including breezeway enclosures and security vestibule installations.
In 2020, he provided leadership, open communication, and effective decision making involved with the long-term closure of the Grafton Complex due to an electrical fire. More recently, he adeptly led a safe return to school during the COVID-19 pandemic - working to ensure the health and safety of staff and students and further reaffirming our partnership with Peninsula Health District. This work has been featured in state and national seminars and publications, including EdWeek.
Dr. Shandor serves on multiple educational and community committees, both local and regional.
He has served as:
New Horizons Superintendent of Record - 2014-2016
Region #2 Superintendent Chair - 2019-2021
WHRO HRETA Chair - 2018-2019
Board of Directors (VASS) Virginia Association of School Superintendents - 2019-2021
State Superintendents Leadership Council - 2019-2021
He has presented at state and national level conferences and routinely serves as a guest lecturer for Educational Leadership for Old Dominion University and George Washington University. Dr. Shandor received the 2015 Darden Fellow Award by Old Dominion University's Darden College of Education. He and his wife Melissa share three school-aged children who attend the York County school division.
Division Leadership
James Carroll, Ed.D.
Chief Operations Officer
757-898-0466


As chief operations officer, Dr. James Carroll provides leadership and oversight over the following areas:

Capital Projects
Information Technology
Maintenance
Student Services
Transportation

Candi Skinner
Chief Academic Officer
757-898-0366


As chief academic officer, Candi Skinner provides leadership and oversight over the following areas:

Academic Services
Curriculum & Instruction
Educational Technology
Special Education

Bill Bowen
Chief Financial Officer
757-898-0449


As chief financial officer, Bill Bowen provides leadership and oversight over the following areas:

Accounting
Budget
Payroll

David Reitz, Ed.D.
Chief Human Resources Officer
757-898-0349


As chief human resources officer, Dr. David Reitz oversees the school division's efforts at building and retaining exceptional employees. He supervises staff devoted to:

Benefits
Compensation
Personnel
Recruitment
For a listing of school board office personnel by department, go to our administrative directory. For a list of school principals and assistant principals, go to our school administrator directory.