Leadership
School Board
The York County School Division is governed by an elected School Board comprised of five members, one from each of the county's five election districts. Elections are held every four years, with the next election taking place in November 2019.
Board member contact information, board meeting schedules and archives of the School Board Notes newsletter are available on the School Board webpage.
Administration
The division superintendent is responsible for the direction, leadership, and coordination of students and staff in their efforts to reach educational goals adopted by the School Board.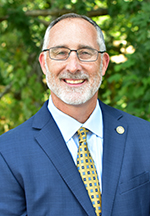 Victor D. Shandor, Ed.D.
Division Superintendent

757-898-0310
Follow on twitter @ShandorVictor
Dr. Victor Shandor was appointed as the ninth superintendent of the York County School Division in August 2014. A 1992 graduate of California University in Pennsylvania, he began his career in education as a teaching assistant. It was this initial experience that led him back to the classroom to pursue a master's degree in Exceptional Education from Old Dominion University. He has also earned an education specialist degree from George Washington University and a doctorate in educational leadership from Wingate University.
Dr. Shandor has 24 years of educational and leadership experience, serving in the capacities of special education teacher (Chesapeake); principal of the Southeastern Cooperative Educational Programs (SECEP, Norfolk); director of Exceptional Children's Programs (Cabarrus County, NC); and area superintendent (Fulton County, GA).
Dr. Shandor serves on multiple educational and community committees, both local and regional. He also routinely serves as a guest lecturer for Educational Leadership for Old Dominion University and George Washington University. Dr. Shandor also received the 2015 Darden Fellow Award by Old Dominion University's Darden College of Education.
| Name | Position | Email | Phone |
| --- | --- | --- | --- |
| Stephanie L. Guy, Ed.D. | Chief Academic Officer | | 757-898-0366 |
| Bill Bowen | Chief Financial Officer | | 757-898-0449 |
| Anthony Vladu, Ed.D. | Chief Human Resources Officer | | 757-898-0349 |
| James Carroll, Ed.D. | Chief Operations Officer | | 757-898-0466 |
For a listing of school board office personnel by department, go to our administrative directory. For a list of school principals and assistant principals, go to our school administrator directory.