Training
The York County School Division (YCSD) provides full time and part time online courses through its Virtual High School.
The virtual course instructional model allows for differentiating the content to meet student needs. Online courses are interactive and engaging as teachers and students follow a sequential approach to the lessons. Students are asked to explore a variety of lesson activities that allow the student to navigate, explore, research, and use critical thinking skills to complete assignments; additional resources may include multimedia activities, textbook, supplementary material, and the use of the Internet to help students access and understand the unit topics. For example, a teacher may provide several different venues or applications for students to complete a specific assignment. Students may choose from applications such as PowerPoint, web page design, drawing tools, or a host of Web 2.0 applications available on the Internet. A sample Spanish I assignment included the use of a free web-based cartoon template where students could create and develop their characters and responses to demonstrate their knowledge and practice with -AR verbs. The objective for this "Toon Doo" activity is to use new AR verbs. Review -AR verbs you have learned in previous units. Once created students then share their work in a forum to extend discussion of AR verbs.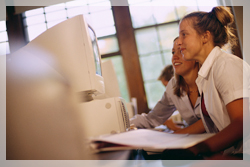 Included in the Student Orientation and every course are elements of Internet safety, academic honesty, online integrity, and proper etiquette.
York County School Division students and parents are provided with a face-to-face and online Orientation Session. Participating students and parents would participate in an online Orientation using webinar software (i.e., Elluminate) in addition to completing an online orientation course. Following this orientation, program administrators are available to assist students. Email, messaging, and phone are methods used to communicate typically on the same day of being notified. Technical issues are resolved as quickly as possible to ensure student success.
Teachers are available to provide support to students daily using email, phone, discussion forums, or messaging features of the learning management system. YCSD VHS requires teachers to respond to students or parents within 24 hours. On average teachers provide from 6-8 hours weekly with established office hours and communication with students.