Enrollment
The York County School Division (YCSD) provides full time and part time online courses through its Virtual High School program (VHS).
Who may enroll:
Students must be currently enrolled in a Virginia public school division to be qualified for enrollment in the York County School Division Virtual High School program. Students in grades 9th - 12th may enroll in the YCSD Virtual High School; students in grades 6th - 8th taking courses for high school credit may enroll (i.e., Algebra I, Spanish I).
Special Education:
YCSD Virtual High School administrators and staff work closely with the Office of Student Services in the Department of Instruction. Together, we facilitate students and staff meeting high expectations through maintaining low student to teacher ratios, incorporating research-based best practices, and following a policy of full-inclusion to the extent practicable for the students in both face-to-face and virtual classes. Virtual High School staff are invited to participate in IEP meetings and discussions related to students considered for virtual courses. Through adherence to these policies we have built a program that gives students with disabilities every opportunity to succeed and thrive. We are constantly seeking to improve our educational community through positive, timely communication and collaboration.
In compliance with the Individuals with Disabilities Education Act and its federal and state regulations, students with disabilities, ages two to 21 inclusive, have the right to a free and appropriate public education. A student with a disability means a child evaluated, in accordance with state regulations, and determined, as a result of this evaluation, to have one of the following disabilities and who, by reason thereof, needs special education and related services: autism, deaf-blindness, a developmental delay, a hearing impairment including deafness, intellectual disability, multiple disabilities, an orthopedic impairment, other health impairment, an emotional disturbance, a severe disability, a specific learning disability, a speech or language impairment, a traumatic brain injury, and a visual impairment including blindness. The IEP team will consider all factors involved in providing assistive technology, extended online school services, and related services on an as needed basis related to functioning in the virtual environment. Digital formats used in virtual courses are SCORM compliant. The IEP team along with the feedback from the virtual teacher will assess how students are meeting annual goals outlined in the IEP.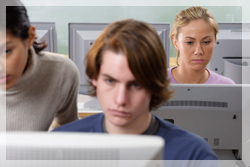 Types of Enrollment:
Students may enroll in online courses on a full time or part time basis to include the following reasons: original credit, credit recovery, expanded options in school schedule, transfer credit, homebound, or placement by the York County School Board.
Calendar Information:
Courses are taught exclusively online in two possible environments: a) online during the school day with an adult Mentor proctoring and teacher in a different physical location, or b) online after school hours with the virtual teacher in a different physical location. YCSD VHS provides year long courses from September - June and 4x4 courses as year long within a semester from September - January and January - June.
Additional information may be found in a Virtual Learning Handbook provided to all participating school divisions.
YCSD Virtual High School teachers are provided a Staff Handbook, access to division email, access to the Learning Management System, and access to a web version of the Student Management System portal. Teachers are required to monitor student progress on a weekly basis. YCSD will work with participating school divisions to provide numeric grades in an electronic report format. Teachers are required to communicate any lack of progress to students and parents; if a student is in danger of failure or there has been little communication or participation from a student within a given period, Virtual HS administrators will communicate and address the concerns with parents. A "modification plan" will be developed to assist the student.
Participating school divisions would be required to provide enrollment information and student data in order to produce accurate reporting of online course progress and final grade reports. YCSD is responsible for taking all reasonable and appropriate steps for the protection of the confidentiality, availability, privacy, and integrity of information in its custody, whether in electronic or material form.