About Virtual High School
The YCSD Virtual High School provides secondary students with the opportunity for online learning.
The Virtual High School (VHS) is a program that offers interactive online courses to secondary students. Courses are delivered using a course "learning management system" through the Internet and available to students 24 hours a day. Students are actively engaged in online discussions and learn to track messages, submit documents electronically, and meet online with teachers and students through a "virtual classroom". Students must have an active email account, access to word processing and presentation software, Internet, and specific plug-ins.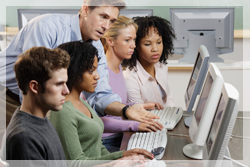 Dynamic curriculum integrating 21st century skills & real world experiences
The instructional model is interactive and engaging as teachers and students follow a sequential approach. Announcements are posted to provide clear instructions for the lesson; the lesson may include an introduction including objectives, a variety of lesson activities to navigate, explore, research, and use critical thinking skills to complete assignments; additional resources may include multimedia activities, textbook, supplementary material, and the use of the Internet. Students access a range of assessments designed to demonstrate their mastery of the subject.
Variety of Technology & Resources
Content Management - Students use a web-based Learning Management System called Moodle. The courses in Moodle are organized in content blocks, making material easily accessible for students. The main components of a VHS course are:
Announcements - Welcome, communication of current information
Calendar - Important activities and due dates
Content Blocks - Content is separated into units or modules and listed in blocks in the center of the course main page
Instruction - Course instruction includes a variety of activities and resources that are found in the content blocks and also organized and linked in the activities block on the left of the screen
Enhanced Communication
Communication - Ongoing communication is essential in an online learning environment. Students and instructors have various tools for online communication, including:
Forums - Discussion forums that allow for asynchronous communication. Participants discuss course content, ask questions, and reply to discussion prompts. Discussion threads are also emailed to students and instructors
Messaging - Messaging allows for instant communication between users who are online at the same time. Messages are sent via email when a user is not online
Elluminate - These sessions are synchronous online class meetings that include instant messaging, live audio, and an electronic whiteboard with desktop and file sharing abilities
Special Education Support
Special education support services are provided in accordance with the Individualized Educational Plan or 504 Plan outlined by a team of staff, parent, and student. Courses are designed to provide accommodations outlined in the IEP or 504 including, but not limited to scanning written work, extended time, audio lessons and responses, audio text help, calculator, technology services and special education services with support staff assigned to the student's online class/block period during school, staff traveling to the student's home, or through the use of video conferencing tools.