About the Programs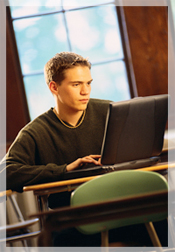 Virtual Learning Program provides secondary students with the opportunity for online learning.
Virtual High School
The York County School Division Virtual High School (VHS) is a program that offers interactive online courses to secondary students. Courses are delivered using a course "learning management system" through the Internet and available to students 24 hours a day. Students are actively engaged in online discussions and learn to track messages, submit documents electronically, and meet online with teachers and students through a "virtual classroom". Students must have an active email account, access to word processing and presentation software, Internet, and specific plug-ins.
Virtual Virginia
Virtual Virginia (Virtual VA or VVa) is a program of the Virginia Department of Education which offers online Advanced Placement (AP), world language, core academic, and elective courses to students across the Commonwealth and nation. Virtual Virginia is committed to providing high-quality, rigorous course content with the flexibility to meet schools' and students' varied schedules. The program strives to provide instruction that meets the individual needs of students using technology of the 21st century. Virtual VA provides a unique opportunity for educators to reach students who want the experience of online courses.
Multidivision Online Provider Virtual Learning Program
The York County School Division is pleased to be an approved Multidivision Online Provider for the Virtual Schools Initiative in the Commonwealth of Virginia. We invite participating school divisions to preview the virtual program information when making important decisions to integrate virtual learning. It is an easy process to get started using the procedures provided.
Courses have been designed to meet full year or semester academic requirements. YCSD offers courses in both year-long or 4x4 format to help students achieve original credit or credit recovery. Tuition for a full year course is based on a rate of $550.00 per course per student. Tuition for semester courses is based on a rate of $350.00 per course per student. Tuition rates may be adjusted based on enrollment above 20 students. Please contact , Virtual High School Principal, to discuss integrating virtual learning into your school.