New in 2009-10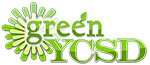 York County School Division strives to continuously improve the quality of our schools and to be good stewards of the environment. The division is proud to announce that it has reduced its total energy consumption by more that 79,164 MMBTU. All of our schools have involved the students with Earth Clubs, green Teams and 4-H activities. Several of our schools have received recognition for efforts in supporting the environmental conservation, and the division has won the National Energy Award by the Alliance to Save Energy. Custodial Services is piloting a green cleaning program at Yorktown Elementary School. The program not only employs the use of greener cleaning products, but also greener cleaning practices. Within our buildings we have implemented several energy saving techniques, including geothermal heating and cooling. The division will implement an intensive recycling program at the schools in 2010. Education of custodians and other staff will ensure the program is efficient.
The Informational Technology Department implemented the Building Access System Launch by installing electric door locks throughout the schools, new and upgraded existing security camera systems at all middle and high schools and issued new building access badges to all staff members. These measures enhance the security and safety of our children, staff and community. The National School Public Relations Association (NSPRA) recognized YCSD with a Golden Achievement Award for the implementation of the system.
The YCSD School Board adopted a Strategic Plan for the YCSD. The plan provides direction for the division's programs and initiatives, and contains three main objectives: the Mission Statement, the Goals and the Beliefs.
An Internet Safety Instruction for secondary students was implemented during the first quarter of the school year using an introductory on-line safety lesson presented by middle and high school English teachers. The lesson targets cyber bullying, Copyright/Fair Use/Ethics, and the YCSD Acceptable Use Policy. Follow up instruction and reminders are presented to students during the second, third and fourth quarters. In 2009, the internet instruction expands to include the elementary level students. Waller Mill Elementary School produced two programs, "Tech Kids in Getting Web Ready" and "Tech Kids in The Cyberfully Zone". The programs are available on y-Vids at the York County Schools website and aired on our YCSD Ch. 47
In the fall of 2009, the School Board began hosting the "Accent on Academics" program at each meeting. The 10-minute presentation, given by YCSD teachers, highlights instructional initiative programs that are posted on the division's website and aired on our YCSD Channel 47.
The Third Generation Technology Model was developed in FY 09 following extensive analysis and review of the current model. The new plan focuses on expanded user access to software and services; smaller but more frequent technology upgrades; and service-oriented support for the integration of technology in classroom instruction.