Before & After School Care
Champions - Where Learning and Fun come Together!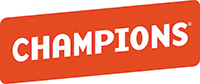 For today's busy parents, finding a safe, enriching environment where children can spend time before or after school is a significant concern. At Champions, we understand your need and offer convenient and sensible options right at your neighborhood school. Champions offers a wide variety of fun, flexible and enriching programs within your district. Check out the programs that are offered at your school!
Sports Zone - Packed with lots of activities that can help children develop physically and burn off extra energy.
Take the Challenge - Kids can read a book, participate in a contest, do a puzzle or complete homework, often with the help of a teacher.
Imagine That - Where kids can let their imaginations wander with arts and crafts, or "ham it up" with theatrical fun.
The Nature of it - Kids might build a birdhouse or construct a dinosaur home as they watch science and nature come to life.
Snack Attack - Where kids learn about good foods and have the opportunity to cook and eat!
2016-17 School Year Weekly Fees
:
| | | |
| --- | --- | --- |
| Days | Before | After |
| 5 | $38.00 | $52.00 |
| 4 | $31.00 | $46.00 |
| 3 | $26.00 | $38.00 |
| 2 | $24.00 | $33.00 |
| 1 | $22.00 | $31.00 |
Early Release Fee: $10.00 per child per day attending in afternoons
Non School Day/Full Day Fee: $37.00 per child per day
Family Registration: $75.00 (non-refundable)
Drop In Fee: $33.00 per unscheduled program session
Account Late Pay Fee: $10.00
*All fees are in addition to your normal weekly tuition rates
Hours:
Morning Program: 6:00 a.m. to start of school
Afternoon Program: Dismissal to 6:00 p.m.
Locations:
Bethel Manor Elementary
Coventry Elementary
Dare Elementary
Grafton Bethel Elementary
Magruder Elementary
Mt. Vernon Elementary
Seaford Elementary
Tabb Elementary
Waller Mill Elementary
Yorktown Elementary
Enroll online at
www.discoverchampions.com
For Further Information - Contact the Area Manager
April Thomas
757-833-8294 ext. 14
athomas@klcorp.com
For online Customer support call:
1-800-246-2154
Champions Summer Break - Best Summer Ever!!
We're pulling out all the stops this summer, to make sure it's your kids' best one yet. Our summer unit themes change every week, and each one is designed with immersive activities that let kids take deep dives into exciting topics. Choose your favorites, or go all summer long with us!
Oceanography
Kids can dive into the world's oceans, and discover the plants and animals that call it home. Your young oceanographer in training will surf the seas of knowledge from tide charts to echolocation to environmental concerns.
A Closer Look at Trees and Birds
When it comes to learning about these natural wonders, the sky's the limit. From photosynthesis to using different tools as "bird beaks" to eat with, there's so much these plants and animals can teach your kids about the world around them.
Circus Science
Kids will learn what makes the big top tick as they practice circus tricks and discover the scientific properties that make them possible. Your kids will walk on stilts, practice juggling, and be amazed by gyroscopic stability and centrifugal force while clowning around.
Junior Inventors
Kids get to turn their incredible ideas into amazing inventions. They'll learn how the greatest inventors succeeded, and prepare their own innovations to present at an "Invention Convention." Ready, set, invent!
Spy School
Kids can delve into the intrigue and espionage of the secret world of spies. They'll learn the tricks of the trade, like cracking codes, analyzing clues, and solving mysteries. They can look the part in their secret agent costumes, and even create their own spy fiction!
Insects and Arachnids
Kids shouldn't let these little creatures bug them. These tiny animals are a huge part of our natural world. Your young explorers will get to go on a fun hike to find insects and arachnids, make bug-inspired snacks, create bug trading cards, and share their expertise with friends and families.
Superheroes Among Us
Kids don their cape and mask, and let their inner superheroes loose. They'll give themselves super abilities and decide how to use them for the good of the community. From superfoods, to honoring their own personal heroes, this session soars!
Mixed Up Fairytales
Kids will have some fun turning traditional tales on their head, as they embark on an adventurous romp through well-known stories. They'll become one of the main characters, discover common links between stories, and rewrite the endings.
All About Jungles and Rainforests
Kids get a chance to explore the most fascinating, exotic, and vibrant places on the planet. They'll build a rainforest canopy, populate it with sleek jaguars and majestic gorillas, and learn about environmental threats and preservation efforts for these vital habitats.
Program Location: Grafton Bethel
Registration Fee: $75.00(includes summer shirt and water bottle)
Tuition: $37.00 a day, choose the number of days you need per week
Special $20.00 Discount offered on tuition weeks of 5 days selected
Program Dates: June 20 - August 26
Program Times: 6am - 6pm
Field Trip fees vary per trip(a complete list will be provided on the first day of camp)
Please pack a labeled bagged lunch daily
Space are limited and filling up fast!
Visit www.discoverchampions.com to enroll or call 1.800.246.2154