Professional Development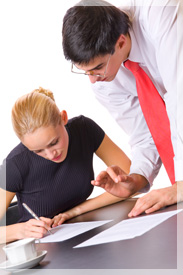 Ongoing professional development ensures that YCSD employees are able to maintain and improve upon the quality instruction and service that is expected by our community. Licensed and non-licensed professional development programs focus on the specific needs of each employee, both as a member of a team and as an individual.
Professional development topics are determined each year and training opportunities are then developed for employees. Following a School Board goal to "maintain efficient, effective, service-oriented operations that support student achievement", in 2009-10, non-licensed employees will focus on customer service. Licensed employees will focus on student learning in line with school improvement goals and will be provided opportunities to strengthen their efforts to "engage all students in rigorous educational experiences" - another School Board goal.
To maintain a teaching license, teachers are required to complete a certain number of professional development hours each renewal cycle. YCSD strives to help teachers meet that goal while ensuring a concentration on areas of instructional improvement.